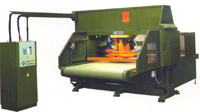 Atom Smart Press gasket cutting machine has nesting software to achieve better yields from materials. Its quick cutting speed makes high volume cutting affordable.
AccuTrex Products offers a broad array of cost-effective production options, sophisticated equipment, and a wide range of gasketing materials. AccuTrex die cuts custom prototype, short and production-run gaskets. As a fabricator for Interface Solutions, West American Rubber Company (WARCO), Fibreflex Packing & Mfg., Thermoseal (A Klinger licensee), Vellumoid and many others, we will be delighted to work with you to select materials and production techniques. Additionally, we can accommodate unique materials and styles to meet your requirements.
Abrasive waterjet cutting offers precision workmanship with a high degree of repeatability and positioning accuracy at affordable prices. Our CNC-driven waterjet cuts material up to six inches thick.
Materials Include:
Compressed Non-Asbestos
Vegetable Fiber
Gasket Paper
Cork and Rubber
Flexible Graphite
Cloth-Inserted Materials
Practi-Shim™ color-coded plastic
Fish Paper
Types of Gaskets:
Custom Die-Cut Gaskets
Jacketed Gaskets
O-Rings
Flange Gaskets
Soft Metal Gaskets
Spiral Wound Gaskets

AccuTrex Products is an ISO 9001 registered and AS9100 registered veteran-owned small business.