At AccuTrex Products, Inc., we greatly value our customers. Our line of products, including shims, gaskets, shim stock, and washers, are used in numerous applications across a variety of industries.
AccuTrex is now proud to offer a number of products from Deacon Industries, the "high-temperature sealant specialists." These new products diversify our offerings, opening up a whole new sector of the industrial market.
Deacon Industries
Deacon has been headquartered in Washington, Pennsylvania, since its founding in 1988. They are now the industry's leading manufacturer of sealants and injectable packings for a range of applications up to 2000°F. Their products can be used in vacuum or high-pressure applications that involve hydrocarbons, steam, and various chemicals.
The sealants and injectable packings produced by Deacon are used in a diverse range of industries, including iron and steel production, pulp and paper manufacturing, oil refineries, petrochemical, and power generation. These products are all easy-to-use and can combat and seal even the toughest of leaks.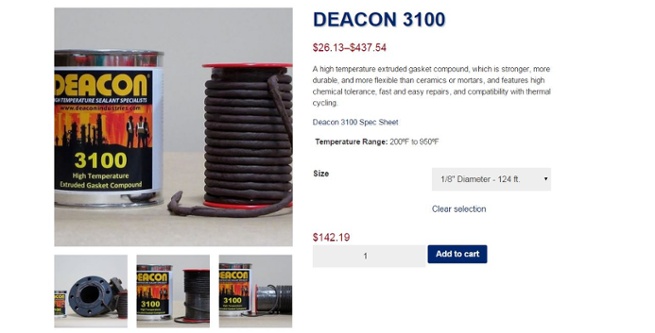 Deacon Sealants
AccuTrex is proud to carry a comprehensive line of Deacon's flange sealants and gasket dressings. These include:
Deacon 3100 (200°F to 950°F) – This is another high temperature extruded gasket compound, which is stronger, more durable, and more flexible than ceramics or mortars, and features high chemical tolerance, fast and easy repairs, and compatibility with thermal cycling.
Deacon 3300 (600°F to 1600°F) – This high temperature extruded gasket compound is ideal for extreme temperatures. It maintains its pliability and can be used to fill voids, pits, and steam cuts on flanges. It is a heat curing, compressible, joint sealant that conforms to flange face and gap irregularities better than standard die cut gaskets
Deacon 770-L (200°F to 950°F) – This is a thermal-reactive, sealing compound for gasket dressings, threads, and metal-to-metal applications. It is well suited for high-temperature and high-pressure environments, such as liquors, hydrocarbons, steams, and solvents. It acts as a mechanical-type seal in the presence of heat and does not interfere with future repairs of metal-to-metal joints.
Deacon 8875-Thin (150°F to 1800°F) – This is a heat curing fibered paste used in high-temperature flange, thread, and gasket dressing applications. It is a refractory/sealant hybrid that does not become weak or brittle and is compatible with thermal cycling. It is typic