Abrasive waterjet cutting offers exceptional accuracy while avoiding stress or heat distortion of the material. This will preserve the structural and performance integrity of your material through any straight or intricate cut. An abrasive waterjet can cut materials that laser cutting cannot.
With an 8'x12′ cutting bed, our abrasive waterjet cutting equipment can cut virtually any material up to 6″ thick, quickly and to specified tolerances. Abrasive waterjet cutting is an ideal process for cutting everything from laminated sheets, letters for signage to wood for custom furniture.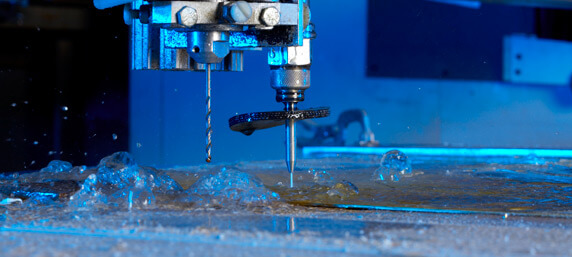 Abrasive Waterjet Cutting Materials:
Brass
Copper
Titanium
Steel
Laminated Shim Stock
Alloys
Stainless steel
Carbon fiber
Composites
Leather
Wood
Plastics
Glass
Foam
Granite
Marble
Rubber
Natural tile
Natural stone
Engineered tile
Engineered stone
Ceramic tile

Abrasive Waterjet Cutting Benefits:
Accurate tolerances
No heat-affected zones
Precise CNC cuts to +/-.005*
Improved productivity
Potentially less waste-common wall cutting
Easily makes complex cuts and irregular shapes
Perfect for prototypes and small runs
Near net shape production
Fast setup for production runs
Smooth, precise edges*
No burrs
Repeatability
Multiple-head cutting
No tooling charges
Uniform cuts
Eliminates secondary operations/finishing
Industries we serve include:
Architectural
Aerospace
Construction Equipment
Oil and Gas Drilling Equipment
Packaging
Locomotive
Compressors
Petrochemical
Electric Motors
Power and Utilities
Medical Components
HVAC
Non-Abrasive Waterjet Cutting Option:
At AccuTrex we are also equipped to provide non-abrasive waterjet cutting, which consists of waterjet cutting using only water with no abrasive material included. Please contact us for more information on this water jet cutting service.
*depending on thickness and type of material
AccuTrex Products is an ISO 9001 and AS9100 registered, veteran-owned small business.