At AccuTrex, we have the experience, equipment and capacity to meet any of today's critical custom shim needs. We offer repeatable, quality production of shims made from all of today's most popular materials.
Custom shim materials include:
Copper
Rubber
Phenolics
Nylon
Plastics
Spring steel
Titanium
Monel
Lead
Inconel
Practi-Shim™ color coded plastic
Exotic alloys and materials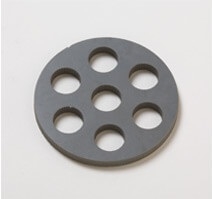 We produce shims that range from simple shapes to complex designs, and we routinely handle short, production and prototype runs. We rely on today's leading production capabilities.
Our shim producing capabilities include:
CNC punching
Abrasive waterjet cutting
Laser cutting (up to 4,000-watt capacity)
Wire EDM machining
Circle shearing
Die design and production
Forming
Bending
Grinding
Nibbling
Sawing
Shearing
Heat treating and plating
Babbitting
Passivating
Bar coding
Special packaging
In addition, with in-house tooling and the time and cost economies of abrasive waterjet cutting and laser cutting services, we help keep our customers' costs low.
Our custom shims meet the toughest requirements of the original equipment manufacturer (OEM) marketplace and a wide range of industries.
These industries include:
Architectural
Aerospace
Construction Equipment
Oil and Gas Drilling Equipment
Steel Mill Equipment
Mining Equipment
Material Handling
Packaging
Locomotive
Compressors
Petrochemical
Electric Motors
Power and Utilities
Medical Components
HVAC
AccuTrex Products is an ISO 9001 and AS9100 registered, veteran-owned small business.