AccuTrex Products, Inc., manufactures AccuPeel® Laminated Shims, also known as peelable shims, in specific materials such as laminated aluminum, laminated brass, laminated stainless steel, laminated steel, laminated titanium & laminated polyimide.

AccuPeel® Laminated Shim Stock is manufactured to be a precise, easily peelable shim material per the latest revisions of AMS-DTL-22499 (formerly MIL-S-22499), AMS 4013, AMS 5500 and AMS 4508. Utilizing the latest technology, AccuPeel® Laminated Shim Stock materials provide a uniform, even peel throughout the sheet.
AccuTrex Products, Inc. offers you the option of purchasing AccuPeel® Laminated Shim Stock in sheets or allowing us to provide laminated shims to your specifications
With our vast array of cutting technologies, 5-300 ton punch presses, abrasive waterjet cutting machine and turret presses, we are equipped to fabricate any parts you may need.
The AccuTrex Difference
We have a process of manufacturing our AccuPeel® laminated shim stock that enables our customers to peel our shims without using heat or a blowtorch.
When compared to our competitors' material, our customers have seen our laminated shims save them both time and money.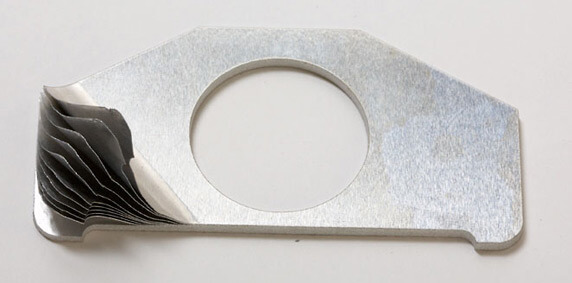 We ship to customers both nationally and internally.
Manufacturing to specification AMS-DTL-22499
Titanium Alloy (Comp 5)
All laminations (Type 1)
1/2 solid/ 1/2 laminated (Type 2)
.002″ laminations (Class 1)
.003″ laminations (Class 2)
AccuTrex Products is an ISO 9001 registered and AS9100 registered, veteran-owned small business.