Accutrex Products has extensive expertise in sheet metal fabricating, laser and waterjet cutting.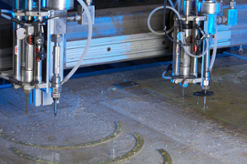 Our Complete Capabilities Include:
CNC Punching
Circle Shearing
Die Design & Production
CNC Automated Bending
Wet Painting
Forming
Grinding
Nibbling
Sawing
Shearing
CNC Die Cutting
Gasket Design
Electrical Discharge-Machining (wire EDM)
CNC Milling
Drilling
Turning
Boring
Welding
CNC Turret Punching
Robotic Welding
Assembling
Bar coding for quick and accurate data input
Special packaging and assembly that meets your exact specifications
S.P.C (Statistical Process Control) which ensures compliance of dimensions and specifications
J.I.T. (Just In Time) inventory strategy to manage and reduce inventory costs
E.D.I. (Electronic Data Interchange) to reduce administrative and paperwork costs
---
Quality Capabilities
Contact us today to inquire about our comprehensive services and obtain a detailed quote.
Capabilities by Facility
AccuTrex Products is an ISO 9001 and AS9100 registered, veteran-owned small business.