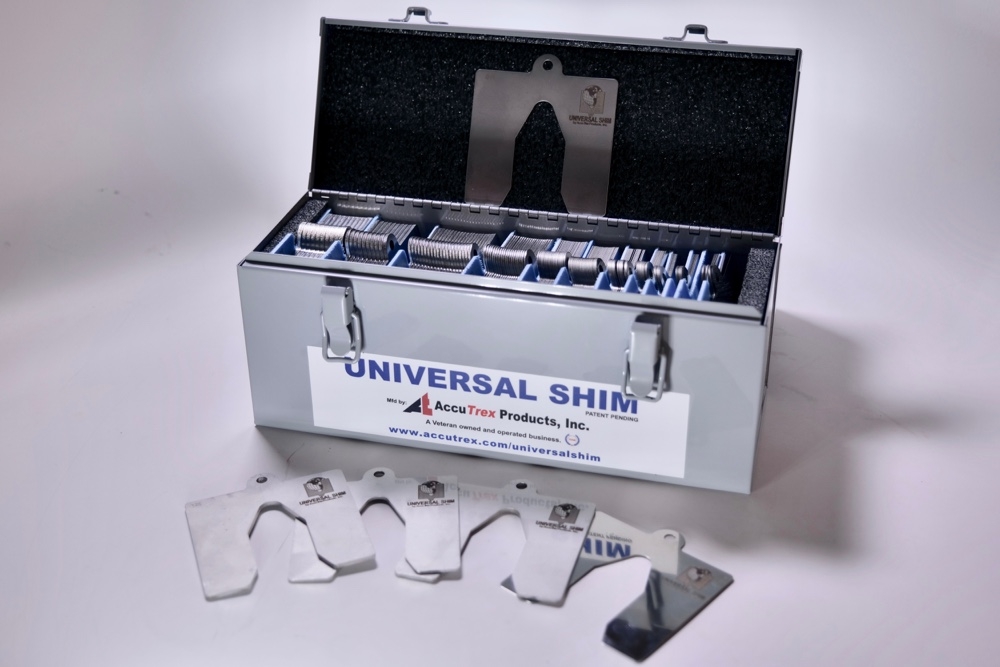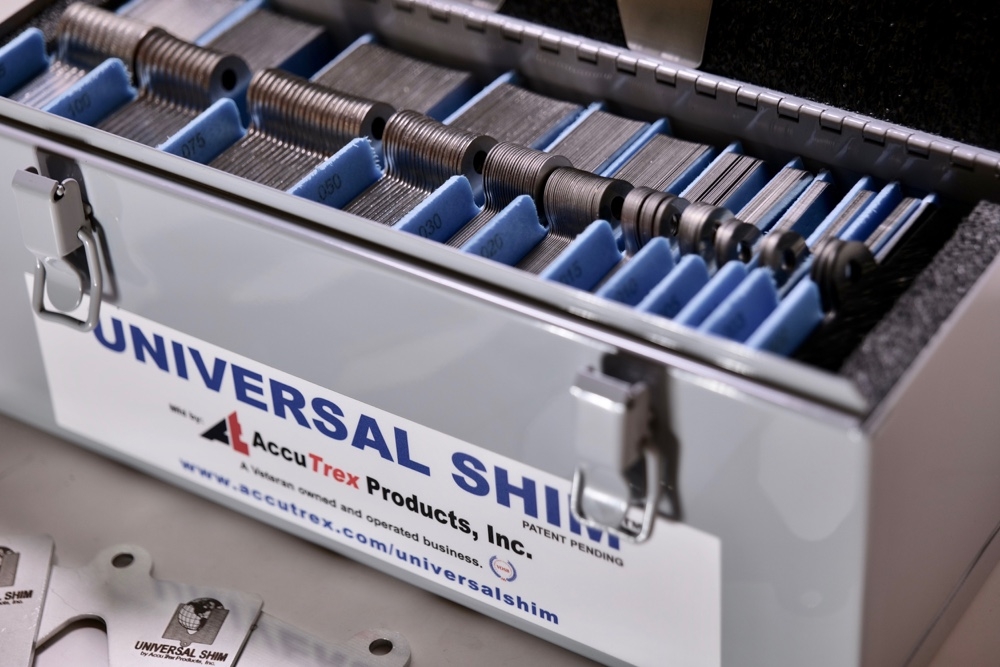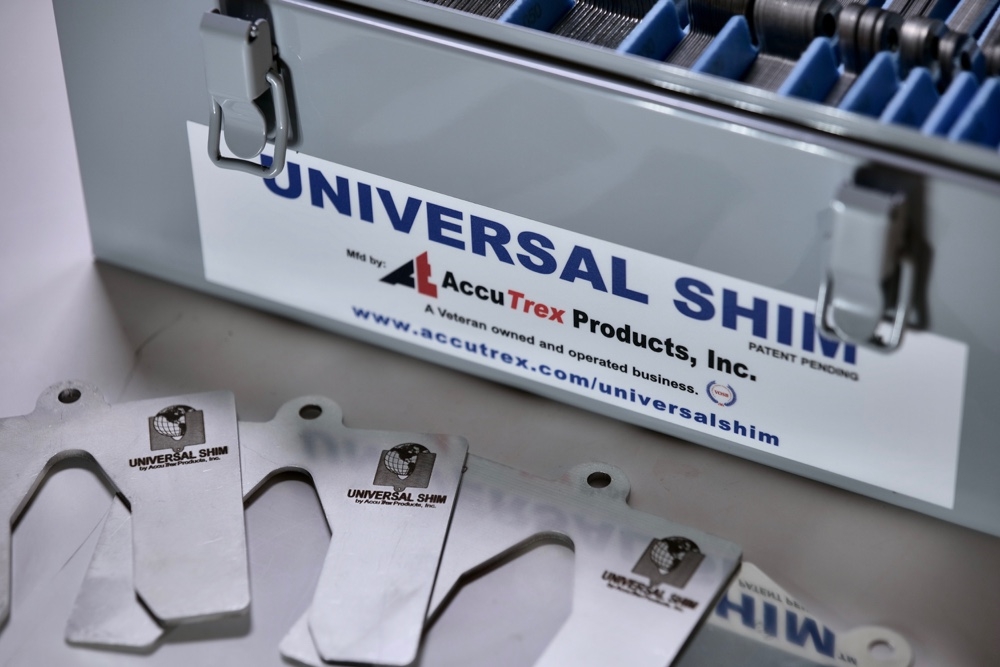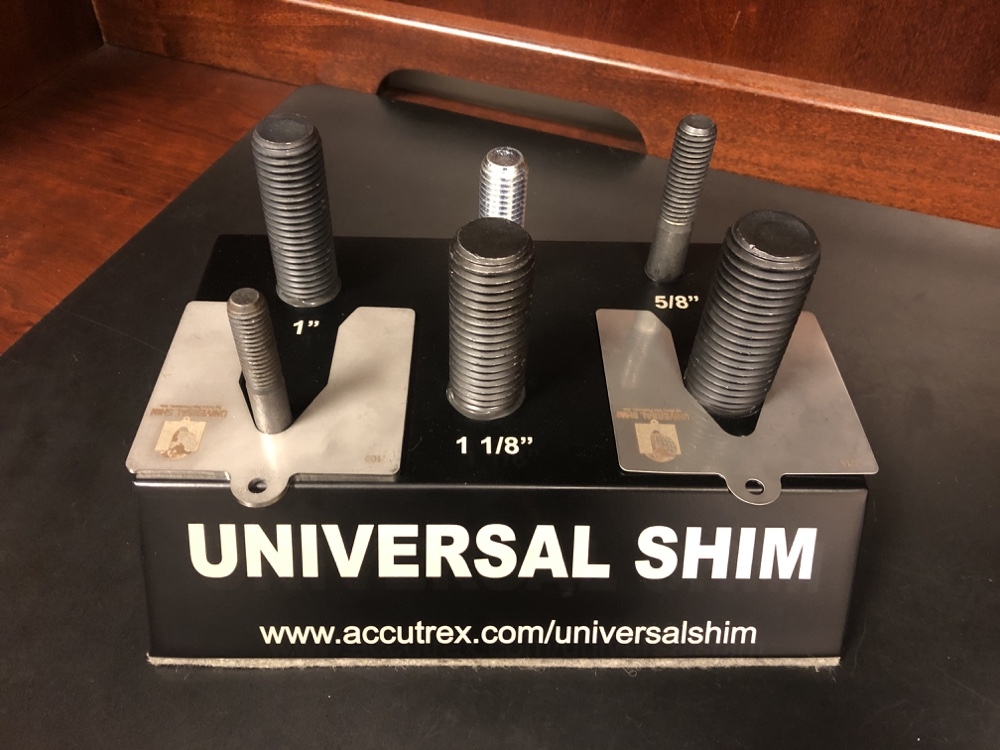 THE UNIVERSAL SHIM™
The UNIVERSAL SHIM™, manufactured by AccuTrex Products, is an economical alternative to the standard slotted tab shim. It's tapered inner slot design allows the shim to be used on a wide variety of installations and bolt sizes both (standard and metric) without loss of base coverage found with the use of standard "A", "B", and "C" tab shims. Tab shim manufacturers have traditionally piggybacked each other with 4 different sizes and corresponding slots, intending on creating a customer misconception that these various sizes have a significant advantage when used with a particular size or piece of equipment.
The UNIVERSAL SHIM™ provides a non-limiting tapered slot to accommodate bolt sizes from 7/16" (.437" to 1 17/64"). Our assorted kit replaces standard "A", "B", and "C" pre-cut shims with a one size fits all solution that is able to provide supportive coverage across multiple base foot areas.
The UNIVERSAL SHIM™ product is available in a full kit which includes 10ea .100 (12GA) and .125"(11GA); 20ea .002"; .003"; .004"; .005"; .010"; .015"; .030"(22GA); .050"(18GA); .075"(14GA) and 30ea .020"

Replacement kits are also available in 10, 20 and 30 piece sets.
Developing the UNIVERSAL SHIM™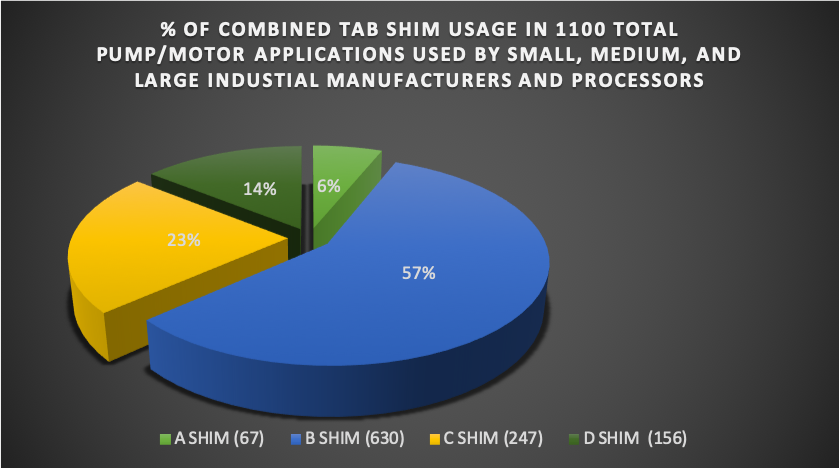 AccuTrex Products, conducted a market study of tab shim usage by small, medium, and large industrial manufactures and processors. In data compiled over an 8 year period, we found 85.81% of shimmed equipment used a combination of standard "A", "B", or "C" tab shims.
Many of these applications were miss-matched, where a "convenient" job-site shim was used improperly causing "soft foot" at the base of the unit that may lead to excessive machine vibration and cavitation resulting in equipment damage. Why risk damage to valuable equipment with incorrect shim installations when you can take the guess work out with the UNIVERSAL SHIM™?
Learn more about the study and view common problems the UNIVERSAL SHIM™ addresses.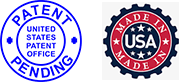 UNIVERSAL SHIM™ Advantages
Reduce shim cost up to 50%
Decreased margin of error
Eliminate excess inventory by up to 85%
Standardized product
Larger positioning of tab hole
Ease of installation
Prevents soft foot that contributes to excessive machine vibration by providing uniform base coverage
Reduce technician labor cost by carrying less product to the jobsite
U-SHIM SKU
SHIM PART DESCRIPTION 
APPROXIMATE PACKAGED 
WEIGHT IN LBS
BSS-OUS-2000
230PC KIT:

TOOLBOX

PLUS 

10ea

.100 (12GA) and .125"(11GA);

20ea

.002"; .003"; .004"; .005"; .010"; .015"; .030"(22GA); .050"(18GA); .075"(14GA) and

30ea

.020"

22.2
10 PC PACKS 
RPK-OUS-002-10
UNIVERSAL SHIM .002″ 10 PC REPLACMENT PACK
0.3
RPK-OUS-003-10
UNIVERSAL SHIM .003″ 10 PC REPLACEMENT PACK
0.3
RPK-OUS-004-10
UNIVERSAL SHIM .004″ 10 PC REPLACEMENT PACK
0.3
RPK-OUS-005-10
UNIVERSAL SHIM .005″ 10 PC REPLACEMENT PACK
0.3
RPK-OUS-010-10
UNIVERSAL SHIM .010″ 10 PC REPLACEMENT PACK
0.5
RPK-OUS-015-10
UNIVERSAL SHIM (28GA) .015″ 10 PC REPLACEMENT PACK
0.6
RPK-OUS-020-10
UNIVERSAL SHIM .020″ 10 PC REPLACEMENT PACK
0.7
RPK-OUS-030-10
UNIVERSAL SHIM (22GA) .030″ 10 PC REPLACEMENT PACK
1
RPK-OUS-050-10
UNIVERSAL SHIM (18GA) .050″ 10 PC REPLACEMENT PACK
1.5
RPK-OUS-075-10
UNIVERSAL SHIM (14GA) .075″ 10 PC REPLACEMENT PACK
2.2
RPK-OUS-100-10
UNIVERSAL SHIM (12 GA) .100″ 10 PC REPLACEMENT PACK
2.9
RPK-OUS-125-10
UNIVERSAL SHIM (11GA)  .125″ 10 PC REPLACEMENT PACK
3.3
RPK-OUS-250-10
UNIVERSAL SHIM .250″ 10 PC REPLACEMENT PACK
6.4
20 PC PACKS 
RPK-OUS-002-20
UNIVERSAL SHIM .002″ 20 PC REPLACMENT PACK
0.4
RPK-OUS-003-20
UNIVERSAL SHIM .003″ 20 PC REPLACEMENT PACK
0.4
RPK-OUS-004-20
UNIVERSAL SHIM .004″ 20 PC REPLACEMENT PACK
0.4
RPK-OUS-005-20
UNIVERSAL SHIM .005″ 20 PC REPLACEMENT PACK
0.4
RPK-OUS-010-20
UNIVERSAL SHIM .020″ 20 PC REPLACEMENT PACK
0.8
RPK-OUS-015-20
UNIVERSAL SHIM (28GA) .015″ 20 PC REPLACEMENT PACK
1
RPK-OUS-020-20
UNIVERSAL SHIM .020″ 20 PC REPLACEMENT PACK
1.2
RPK-OUS-030-20
UNIVERSAL SHIM (22GA) .030″ 20 PC REPLACEMENT PACK
1.8
RPK-OUS-050-20
UNIVERSAL SHIM (18GA) .050″ 20 PC REPLACEMENT PACK
2.8
RPK-OUS-075-20
UNIVERSAL SHIM (14GA) .075″ 20 PC REPLACEMENT PACK
4.2
RPK-OUS-100-20
UNIVERSAL SHIM (12 GA) .100″ 20 PC REPLACEMENT PACK
5.6
RPK-OUS-125-20
UNIVERSAL SHIM (11GA)  .125″ 20 PC REPLACEMENT PACK
6.4
RPK-OUS-250-20
UNIVERSAL SHIM .250″ 20 PC REPLACEMENT PACK
12.6
30PC PACKS 
RPK-OUS-002-30
UNIVERSAL SHIM .002″ 30 PC REPLACMENT PACK
0.5
RPK-OUS-003-30
UNIVERSAL SHIM .003″ 30 PC REPLACEMENT PACK
0.5
RPK-OUS-004-30
UNIVERSAL SHIM .004″ 30 PC REPLACEMENT PACK
0.5
RPK-OUS-005-30
UNIVERSAL SHIM .005″ 30 PC REPLACEMENT PACK
0.5
RPK-OUS-010-30
UNIVERSAL SHIM .010″ 30 PC REPLACEMENT PACK
1.1
RPK-OUS-015-30
UNIVERSAL SHIM (28GA) .015″ 30 PC REPLACEMENT PACK
1.4
RPK-OUS-020-30
UNIVERSAL SHIM .020″ 30 PC REPLACEMENT PACK
1.7
RPK-OUS-030-30
UNIVERSAL SHIM (22GA) .030″ 30 PC REPLACEMENT PACK
2.6
RPK-OUS-050-30
UNIVERSAL SHIM (18GA) .050″ 30 PC REPLACEMENT PACK
4.1
RPK-OUS-075-30
UNIVERSAL SHIM (14GA) .075″ 30 PC REPLACEMENT PACK
6.2
RPK-OUS-100-30
UNIVERSAL SHIM (12 GA) .100″ 30 PC REPLACEMENT PACK
8.3
RPK-OUS-125-30
UNIVERSAL SHIM (11GA)  .125″ 30 PC REPLACEMENT PACK
9.5
RPK-OUS-250-30
UNIVERSAL SHIM .250″ 30 PC REPLACEMENT PACK
19
SHIM TYPE 
TAB SHIM
SHIM TRADE SIZE 
FITS ALL STANDARD  A, B, and C APPLICATIONS
FITS NEMA FRAME SIZES 
42, 48, 56, 66, 143, 145, (162-169), 182, 203, 204, (213-219), 224, 225, (253-259), 283, 289, (323-369), (403-409), (443-449), (504-509), (1610-1810), 2110
SHIM MATERIAL 
300 SERIES STAINLESS STEEL
THICKNESS RANGE 
.002″-.125″ *REPLACMENT PACK AVAILABLE IN .250″
NUMBER OF PIECES IN KIT
230PC KIT: TOOLBOX PLUS 

10ea

 .100 (12GA) and .125"(11GA); 

20ea

 .002"; .003"; .004"; .005"; .010"; .015"; .030"(22GA); .050"(18GA); .075"(14GA) and 

30ea

 .020"
REPLACEMENT PACKS 
AVAILABLE IN PACKS OF 10, 20, AND 30PCS
SHIM WIDTH 
3.625″
SHIM LENGTH 
3.875″
SLOT WIDTH 
1 9/32″
SLOT DEPTH 
2 33/64″ WITH GRADUATING TAPER
FITS BOLT SIZES
7/16″ TO 1 17/64″
KIT WEIGHT 
APPROXIMATELY 22LBS
| | | |
| --- | --- | --- |
| CHEMICAL COMPOSITION/SPECIFICATIONS  | (.002″-.010″) AND .020″ | .015″ AND (.030″-.125″) |
| MATERIAL TYPE | STAINLESS STEEL | STAINLESS STEEL |
| GRADE | 302 | 304 |
| UNS DESIGNATION | S30200 | S30400 |
| TEMPER | FULL HARD | ANNEALED |
| CARBON | .15 MAX | .07 MAX |
| MANGANESE | 2.0 MAX | 2.0 MAX |
| PHOSPHOROUS | .045 MAX | .045 MAX |
| SULPHUR | .030 MAX | .030 MAX |
| SILICONE | .75 MAX | .75 MAX |
| NICKEL | 8.0-10.0 | 8.0-10.5 |
| CHROMIUM | 17.0-19.0 | 17.5-19.5 |
| NITROGEN | N/A | .10 MAX |
| ROCKWELL | RC 40-45 | RB 92MAX |
| SPECIFICATIONS | ASTM-A-666 | ASTM-A-240 |
U-SHIM SKU
GAUGE 
NOMINAL
THICKNESS
THICKNESS
TOLERANCE 
RPK-OUS-002
N/A
.002″
+/-10%
RPK-OUS-003
N/A
.003″
+/-10%
RPK-OUS-004
N/A
.004″
+/-10%
RPK-OUS-005
N/A
.005″
+/-10%
RPK-OUS-010
N/A
.010″
+/-10%
RPK-OUS-015
28
.015″
+/-.0015″
RPK-OUS-020
N/A
.020″
+/-.0025″
RPK-OUS-030
22
.029″
+/-.002″
RPK-OUS-050
18
.048″
+/-.003″
RPK-OUS-075
14
.075″
+/-.004″
RPK-OUS-100
12
.105″
+/-.005″
RPK-OUS-125
11
.120″
+/-.005″
RPK-OUS-250
N/A
.250″
+/-10%
Applications
Blowers
Chemical plants
Electronics
Fans
Gear boxes
HVAC
Large OEM Equipment Installs
Oil Rigs
Paper mills
Petroleum plants
Power plants
Pumps
Refineries
Steel mills
Utility plants
Industries
Aerospace
Agriculture
Construction
Marine
Medical facilities
Military and defense
Mining
Oil and gas
Packaging
Petrochemical
Pharmaceuticals
Raw material processing
Transportation