Universal Shim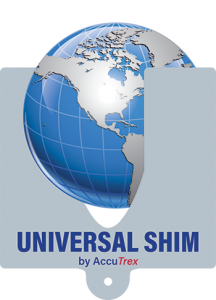 The UNIVERSAL SHIM™, manufactured by AccuTrex Products, is an economical alternative to the standard slotted tab shim. It's tapered inner slot design allows the shim to be used on a wide variety of installations and bolt sizes both (standard and metric) without loss of base coverage found with the use of standard "A", "B", and "C" tab shims. Tab shim manufacturers have traditionally piggybacked each other with 4 different sizes and corresponding slots, intending on creating a customer misconception that these various sizes have a significant advantage when used with a particular size or piece of equipment.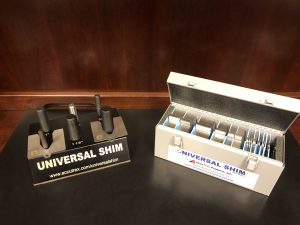 The UNIVERSAL SHIM™ provides a non-limiting tapered slot to accommodate bolt sizes from 7/16" (.437" to 1 17/64"). Our assorted kit replaces standard "A", "B", and "C" pre-cut shims with a one size fits all solution that is able to provide supportive coverage across multiple base foot areas.
The UNIVERSAL SHIM™ product is available in a full kit which includes 10ea .100 (12GA) and .125"(11GA); 20ea .002"; .003"; .004"; .005"; .010"; .015"; .030"(22GA); .050"(18GA); .075"(14GA) and 30ea .020"
Replacement kits are also available in 10, 20, and 30 piece sets.