AccuTrex Products is a company on the leading edge of technology and automation with our sheet metal fabrications. We are unique because we offer all of these state-of-the-art capabilities under one roof. Our advanced equipment and systems provide the control of our production processes, assuring you that we can deliver what we promise – Quality, Reliability, and Service.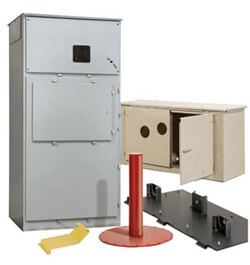 Typical products include:
Cabinets & Chassis
Guards & Racks
Electronic Enclosures
Brackets
Control Boxes
Custom Frames / Shelving
Weldments
Capabilities include:
CNC Punching
CNC Bending
Laser Cutting (including 6-axis cutting)
Manual & Robotic Welding
Automated Powder Coating
Abrasive Waterjet Cutting
Shearing
Forming
Sawing
Wet Painting
Assembling

Finn-Power Shear Genius Flexible Manufacturing Cell (FMC)
An exciting addition to our capabilities is the Finn-Power Shear Genius, a combination 59-station turret press and right angle shear, capable of transforming full-sized sheets into finished parts. By combining two production operations onto one machine, we are able to improve accuracy, reduce lead times, and increase our production throughput.
---

Automated Bending with the Finn-Power Express Bender
The new Express Bender is a great compliment to our existing bending capabilities. This automated machine loads the part, rotates it during the bending sequence, bends, and then unloads the finished part, assuring efficiency and accuracy.
---

Robotic & Manual Welding
AccuTrex offers complete welding services including Robotic, Mig, Tig, and Spot Welding. Our welders are very skilled and are certified to numerous specifications. To complement our existing robotic technology, we have recently added a robotic welder that has two extended reach robots. The dual-armed robot allows us to increase our productivity on larger parts, with consistent and accurate welds throughout.
---

AccuTrex can powder coat parts as small as a washer and as large as a 10-foot enclosure! Our automated system allows us to finish your parts quickly, accurately, and uniformly. For those customers who prefer wet paint, we are equipped with a conveyorized wet spray paint booth with an infrared curing system.
---

We have invested in CNC lasers of various wattages (from 1000-4000 watts) that include timesaving enhancements such as automatic load/unload systems. Our six-axis laser, with rotary chuck, cuts three-dimensional shapes as well as flat parts. Be assured that we will utilize the most economical method of manufacturing for your jobs.
AccuTrex Products is an ISO 9001 and AS9100 registered, veteran-owned small business.