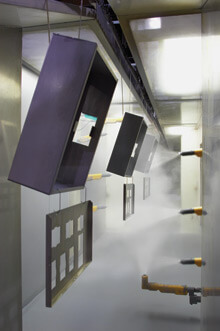 Because AccuTrex Products stays on the leading edge of technology and automation, we are able to offer quick turn, accurate powder coating on a wide range of products. Our automated powder coating system ensures an accurate and uniform finish on your final product. Utilizing our powder coating system, we can precisely powder coat parts ranging in size from small washers to products as large as 10 foot enclosures. If your project calls for a wet paint application, we also offer a conveyor-driven wet spray paint booth that features a fast infrared curing system.
We expertly control our production processes, providing you the assurance that we can deliver what we promise – Quality, Reliability and Service.
Contact us today to learn how we can assist your powder coating needs.
AccuTrex Products is an ISO 9001 and AS9100 registered, veteran-owned small business.