Do you think purchasing managers enjoy three-hour lunches and leave work early? If you said yes, you never met a purchasing manager.
This role is the glue that holds the organization together. By making smart decisions, a purchasing manager keeps the supply chain running smoothly. At times, it can be a bit of a juggling act. A purchasing manager must keep an eye on the budget and simultaneously ensure that everyone always has what they need to get the job done.
A few of the questions that are always swirling around in this person's head include: How can I improve cost-efficiency? What are the parts or components we must keep in stock? What's the best procurement strategy? What will I do if we run out of a product?
The title is also deceiving since the role includes much more than making purchases. According to a study in Inbound Logistics magazine, the role includes more than 225 tasks. Some of the responsibilities on that list includes:
evaluating vendors
negotiating contracts, analyzing price proposals
selecting suppliers
maintaining records of purchases and delivery dates.
When you look at the UNIVERSAL Shim from the eyes of a purchasing manager, the product stands out for three important reasons.
1. The UNIVERSAL Shim Reduces Your Inventory Costs
How can you have all the tools in stock to keep your shop running while making sure all these purchases do not hurt your cash flow?
One way is to look for tools that you invest in once yet can be used in multiple ways. That's where the UNIVERSAL Shim enters the picture. This one tool does the job of A, B, C, and D shims. By filling the role of four other shims, it can cut excess inventory by up to 85%.
2. The UNIVERSAL Shim Reduces Your Administrative Transactions
Purchasing one product that has multiple uses also means a reduction in record-keeping.
This one tool makes life easier for the millwrights and maintenance workers who will use it and the various office personnel who manage all the paperwork. Imagine the time that can be saved when there are less purchase orders and less work for the receiving payables department. Plus, there's a reduction in the number of inventory levels that need to be monitored.
3. The UNIVERSAL Shim Reduces Risk
If the right tools are in short-supply, workers have been known to make substitutions on the fly. While this might seem like the right decision at the moment, it can have negative implications. The last thing you need is for a worker to substitute a used shim without cleaning it. One speck of grit or leftover grease could throw the machine off by thousands of an inch.
Over time, this can cause excessive machine vibration and cavitation, which will damage the equipment. Obviously, that's not good. Risk management is yet another concern for purchasing managers. After all, the tools used in production have a ripple effect throughout the entire company.
How Does the UNIVERSAL Shim Work?
It's designed with a tapered inner slot, making it adaptable for a wide variety of installations and bolt sizes (both standard and metric). Thanks to the non-limiting tapered slot, it can accommodate bolt sizes from 7/16" to 1 17/64. The video below shows how it fits bolts of various sizes.
One tool. Multiple applications. The UNIVERSAL Shim is a win-win for both purchasing managers and those who use the tools.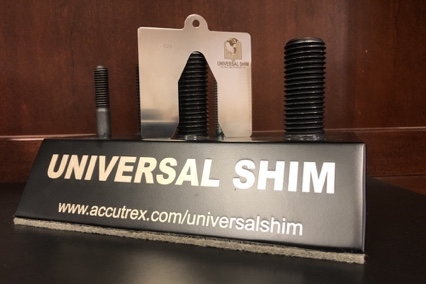 AccuTrex is here to help
The UNIVERSAL SHIM™ is made in America and will save you both valuable time and money. Make sure to contact us to learn more about how it can benefit you—get in touch today!