It's almost that time of the year—the marathon of big holidays! We're at that point in 2020 when Halloween, Thanksgiving, Christmas, Kwanzaa, Chanukah, New Years and (believe it or not) even more holidays fill up our calendar space. These have traditionally been holidays where friends and family gather, but, just like everything else in the world right now, this year is going to look a bit different. Oh, the joys of coronavirus and travel!
If you do end up traveling to spend time with your friends or family during any of these holidays, you will need to keep in mind a potential uninvited guest—COVID-19. This virus is like that second cousin (twice removed) that no one actually wants at the holiday gatherings but insists on showing up anyway.
In fact, it might not even wait for the reunions. This jerk could ambush you before you reach your destination. That's why we want to share tips on navigating the holiday travel season during the age of COVID-19.
Coronavirus and Travel by Vehicle
"Are we there yet?!"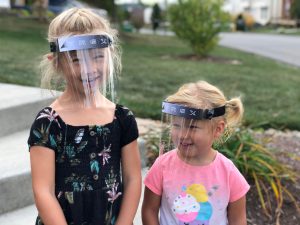 While you're probably used to that phrase bellowing from the mouths of your children in the backseat of your car, COVID-19 could be joining in on the fun this year.
Traveling by car with your family probably seems like the safest bet for those making trips because you have control over all of the elements. You can ensure you and your family have undergone the recommended 14-day quarantine before pulling out from the driveway. Also, the car is (most likely) yours, so you have complete control and knowledge over its whereabouts and who has been in it.
However, things get tricky on the road. That's especially true when it comes to food and bathroom breaks—where you lose the control you enjoy by traveling via your own vehicle. To combat the exposure to germs, and especially COVID-19, the Centers for Disease Control and Prevention (CDC) recommend the following:
Wearing a face mask 
Staying at least six feet away from other people
Washing your hands with soap and water for at least 20 seconds
If soap and water are unavailable, using hand sanitizer with at least 60 percent alcohol
You can, of course, cut down on the risk by also packing your own food and drinks during a trip! Ordering and receiving food via a drive-thru window can help, too. Also, even if you do bring a mask, wearing a face shield over the mask will provide an extra layer of safety and protect your eyes.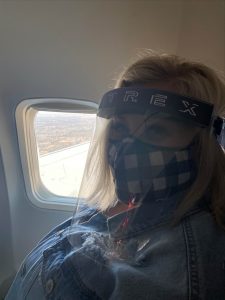 Coronavirus and Travel by Plane
Traveling by plane can feel a bit grimy on the best of days. But the risk of COVID-19 exposure adds a whole new dimension into the mix.
Airports are complicated because they are a hub for thousands of people from all over the world, standing in close proximity, touching railings and luggage and basically just breathing their germs into the air (we all do it!). That's why it's important to follow the CDC's recommendations to stay six feet away from others, if possible.
However, that isn't always possible on the actual plane. According to the CDC, germs and viruses don't spread easily on planes due to the air circulation and filtering on them. But you should still be careful in close proximity to others, bring wipes and hand sanitizer (with 60 percent alcohol) and a face mask or face shield (or both!).
Coronavirus and Travel by Train or Bus
For those who aren't looking to pay big bucks to take their own vehicle (gas isn't cheap!) or travel by airplane, trains and busses are more affordable travel options. However, though you'll save on money, you'll still be exposed to an abundance of germs via public transportation.
If possible, try to stay at least six feet away from others on the train or bus. This most likely won't be an option, but if it is, do it. Definitely make sure you bring a face shield or mask (or both). Avoid touching surfaces around you, and if you need to touch any buttons, make sure you do so with a wipe. And (we're going to sound like a broken record), make sure you have hand sanitizer with at least 60 percent alcohol in it. Lastly, wash your hands with soap and water when given the chance afterward. 
Conclusion
This year, travel smart during the holidays. Make sure you are protecting yourself, your family and others while en route. We can help! Our anti-fog face shields provide superior protection for your eyes, nose and mouth. They are also reusable and easy to clean, so you can focus more on enjoying your time with others and less on laundry.