AccuTrex manufactures custom aluminum containers for industrial applications, including material handling, storage, and shipping. Our custom containers are manufactured to meet the specific requirements for each job and our staff works with each application to determine the most effective process to fabricate the container. AccuTrex offers a full range of fabricating services, including CNC punching, bending, laser and waterjet cutting, robotic welding, wet painting, powder coating and assembly services. We provide full production capabilities and can manufacture quantities from prototype and short run through large production runs.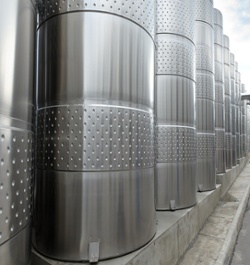 Aluminum containers are used in a variety of industries, including aerospace, defense, transportation, medical, food processing and material handling. We can manufacture containers to meet mil-spec standards.
Types of Aluminum Containers:
IBCs
Collapsible containers
Stackable containers
Containers configured for use by pallet trucks and lifting cranes
AccuTrex's complete production facility utilizes the latest technology and capabilities to manufacture custom aluminum containers to meet the exacting requirements demanded by our customers. All our manufacturing is in-house, providing us with complete control over production, ensuring that your custom containers are manufactured to the highest quality standards and your exact specifications. Our state-of-the-art production capabilities include:
Finn-Power Shear Genius Flexible Manufacturing Cell (FMC) – a combination 59-station turret press and right angle shear that is capable of transforming full-sized sheets into finished parts. By combining two production operations onto one machine, we are able to improve accuracy, reduce lead times, and increase our production throughput.
Finn-Power Express Bender – an automated bending machine that offers increased efficiency and accuracy for our bending processes. It produces precision bends in a production environment.
Robotic & Manual Welding – AccuTrex offers complete welding services, including robotic, MIG, TIG and spot welding. Our welders are highly skilled and are certified to numerous specifications. Our robotic welding equipment includes highly efficient dual-armed robotic welders that provide consistent and accurate welds on all size parts.
Automated Powder Coating – Automated powder coating equipment provides quick, accurate and uniform coating for parts of all sizes up to 10 ft. We also offer wet paint finishing using a conveyorized wet spray paint booth with an infrared curing system.
CNC Laser Cutting – AccuTrex utilizes a range of CNC laser cutting machines to provide the precise cutting required for your job. Our equipment includes automated cutters for production runs and a six-axis laser for cutting three-dimensional shapes. We will utilize the most economical method of manufacturing for your jobs.
Inspection and Quality Control – Our plants employ the latest technologies and testing methodologies to ensure that the parts we manufacture for you meet the highest quality standards. Our processes ensure repeatability during manufacturing, so you can be sure your parts are standard.
AccuTrex Products is an ISO 9001 and AS9100 registered, veteran-owned small business.